5 Weight Loss Smoothies For Breakfast
Do you love breakfast smoothies?  It is the best way to start the day with blended fruits and vegetables. They have a lot of nutritional value too.
Is it good to have a smoothie for breakfast?
If your smoothie has protein and fats instead of just sugar, and you feel satisfied on a smoothie, then it can be a healthy breakfast choice.
Can I lose weight on a smoothie diet?
Having a nutrient-dense smoothie in your daily diet can help weight loss by keeping hunger levels in check.  Smoothie diet also helps because of filling fiber and muscle-building protein.
Do fruit smoothies make you gain weight? 
Green smoothies won't make you fat. However, the ingredients in your green smoothies may add unhealthy sugars, empty calories, and harmful additives to your diet. It will result in a decrease in metabolism, which makes it harder to lose weight.
How to make weight loss smoothies for breakfast?
Add all the ingredients in the blender. Blend them until they become smooth. Do not add all the ingredients at once. Otherwise, it will be difficult for the machine to blend them. Always use fresh ingredients.
Now, I will tell you five recipes for healthy weight loss smoothies for breakfast.
1-Berry Banana Smoothie
Barries are very rich in Vitamin C and antioxidants. It makes this Berry Banana Breakfast Smoothie a nutritional powerhouse. This smoothie is involved in metabolism-boosting, further helping in weight loss.
Ingredients
One banana
½ cup strawberries
½ cup blueberries
½ cup raspberries
One apple, cored and sliced
1 cup almond milk
Cut and freeze the banana for four or more hours and freeze all of the berries. It will make a thicker and colder smoothie.
Number of servings: 1
Serving size: 1 smoothie
Calories: 332 ; Fat: 3 ; Fiber: 14 ; Protein: 4 ; Carbohydrates: 77
2-Peaches and Cream Oatmeal Smoothie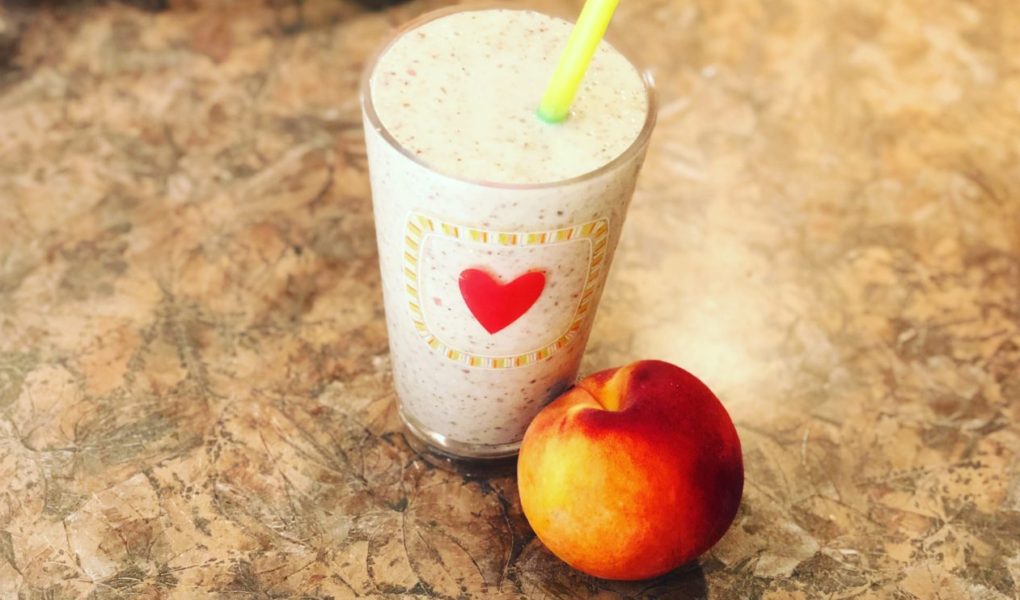 It's full of protein. This smoothie contains oatmeal, which can help lower cholesterol.
 Ingredients:
1 cup frozen peach slices
1 cup Greek yogurt
¼ cup oatmeal
¼ teaspoon vanilla extract
1 cup almond milk
Number of servings: 1
Serving size: 1 smoothie
Calories: 331 ; Fat: 4 ; Fiber: 5 ; Protein: 29 ; Carbohydrates: 46
3-Orange Dream Smoothie
It's packed with lots of Vitamin C and metabolism-boosting ingredients.
Ingredients:
One orange, peeled
One teaspoon vanilla extract
One teaspoon honey
1/4 cup Almond milk
1/4 cup Greek yogurt
1/2 cup ice
Number of servings: 1
Serving size: 1 smoothie
Calories: 129; Fat: 0; Fiber: 1.5; Protein: 10; Carbohydrates: 25
4-Coconut Mango Shake
This yummy Coconut Mango Shake is a perfect weight loss breakfast smoothie option. It has Chia seeds for an extra protein and nutrition boost.
Allow the seeds to soak in your fridge for 8 hours for better expansion.
Ingredients
Two tablespoons Chia seeds
1 cup Coconut milk
½ teaspoon vanilla extract
½ cup chopped frozen organic mango
Number of servings: 1
Serving size: 1 smoothie
Calories: 235; Fat: 11; Fiber: 12; Protein: 7; Carbohydrates: 29
5-Banana Oatmeal Smoothie
Protein from milk and yogurt provides energy.  Soluble fiber from oats and banana improves heart health.
Ingredients
1/4 cup old-fashioned rolled oats
1/2 cup plain low-fat yogurt
One banana, cut into thirds
1/2 cup almond milk
1/4 teaspoon ground cinnamon
Number of servings: 1
Serving size: 1 smoothie
Calories: 279 ; Fat: 3 ; Fiber: 6 ; Protein: 17 ; Carbohydrates: 49
I hope you enjoyed the recipes. Do not forget to share your feedback. You can contact me by clicking the chat Icon.
Be happy, healthy, and strong!
Sarah
Does apple cider vinegar work for weight loss?
11 easy ways to lose weight naturally
Use this Weight loss diet and sleep to burn fat
Best Banana Drink for weight loss
Clean the intestines and lose weight with this simple recipe
Banana Mango Smoothie Recipe 2019