Bamboo Flooring vs. Laminate: Pros, Cons, and The Winner?
Choosing the right flooring can feel like a big puzzle. Bamboo flooring and laminate flooring are two options you may be looking at.
It's kind of like picking between a leather couch and a recliner. Both are comfy, but each has its own style. So, how do you pick?
Don't worry! We've got a side-by-side comparison that will make your choice easier.
| Criteria | Bamboo Flooring | Laminate Flooring |
| --- | --- | --- |
| Material | Made from bamboo, a type of grass | Made from fiberboard with an image layer |
| Durability | Very strong, can be refinished | Strong and scratch-resistant, can't be refinished |
| Cost per square foot | $4-$10 | $1–10 |
| Installation | Can snap-together or be glued or nailed | Usually snap-together (floating floor) |
| Water Resistance | Varies; generally not fully waterproof | Some types claim to be waterproof |
| Feel | Warm and comfortable | Can feel synthetic at lower price points |
| Look | Clean, natural wood-like appearance | Varies; can mimic wood, tile, and more |
| Maintenance | Needs to be swept and can be mopped carefully | Easy to sweep, damp mop; avoid excess water |
| Renewable | Highly renewable; matures in 3-5 years | Not renewable |
| Termite Resistance | Termites can't digest the chemicals used | Doesn't attract termites |
| Best Spaces | Living rooms, offices, and bedrooms | Dining rooms, living rooms, and offices |
| Cons | Can be susceptible to water damage, high cost | Cannot be refinished; synthetic feel |
Bamboo vs. laminate flooring
Go for bamboo flooring if you prioritize natural materials, the ability to refinish, and a warm feel.
Opt for laminate flooring if you want a budget-friendly, durable, and low-maintenance option with design versatility.
What Are They Made Of?
Bamboo Flooring
Bamboo is not really a wood; it's grass! Yet, it works like wood and can be a solid or engineered floor. You can stain it or finish it any way you like.
Laminate Flooring
Laminate isn't wood either. It's made in layers. The base layer is strong. The middle layer looks like wood. The top layer protects it from scratches. It can look like wood, tile, or even metal.
The Cost Factor
Bamboo: Natural but Pricey
Bamboo is often more expensive, ranging from $4 to $10 per square foot. The type and finish can change the cost.
Laminate: Budget-Friendly
Laminate can be as cheap as $1 per square foot, but good quality ones can go up to $10. It can be a budget-friendly choice, but don't underestimate it!
Installation: DIY-Friendly?
Both bamboo and laminate are easy to install. They often snap together. If you're not handy, it might be a good idea to get a pro to do it for you.
How Durable Are They?
Bamboo: Lasts a Long Time
Bamboo is strong, like hardwood. It can even be refinished to look new again. It's tough and not easy to scratch.
Laminate: Comes with Warranty
Laminate floors can last a long time. They often have warranties that say how long they last. They are hard to scratch but can't be refinished.
Are They Waterproof?
Neither bamboo nor laminate is fully waterproof. But some laminate options claim to be. Always check before you buy!
Carbonized and Bamboo flooring comparison
The Feel Factor
Bamboo: Cozy and Natural
Bamboo feels warm and natural underfoot. It won't feel cold in the morning.
Laminate: Soft or Not?
Good quality laminate feels soft and warm. But cheap ones might feel hard and cold.
Pros and Cons
Bamboo Flooring
Pros
Very durable
Looks clean and modern
Renewable resource
Feels like natural wood
Resistant to bugs
Cons
Can be damaged by water
Limited styles
Needs careful refinishing
Can be costly
Laminate Flooring
Pros
Easy to install
Easy to clean
Lots of styles
Budget-friendly
Insect-resistant
Cons
Can't be refinished
Can feel fake at a low cost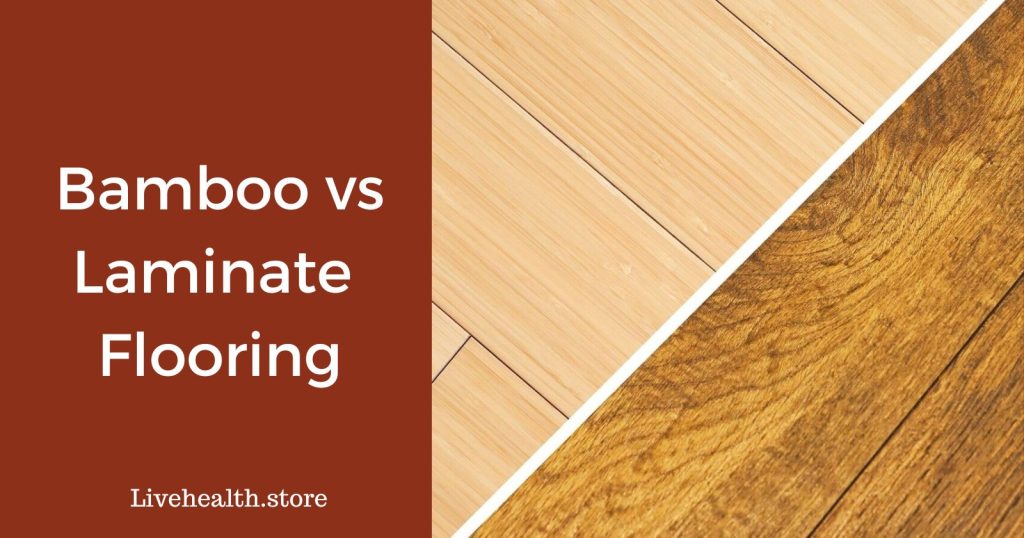 Best Spaces for Each Type
Bamboo
Good for living rooms, offices, and bedrooms. Avoid wet areas, like bathrooms.
Laminate
Great for dining rooms, living rooms, and offices. Stay away from wet places.
Hi there, I'm Sam Billings, and I'm all about sustainability. Running a printing business is my thing, but my real passion is preserving nature. That's why I run the Live Health blog, where I focus on Bamboo plants and their eco-friendly goodness.