Bamboo vs. Vinyl Flooring: The Best Option?
Choosing the right flooring for your home can be a big decision.
You want something that looks good, lasts a long time, and fits your budget.
Two options are bamboo and vinyl flooring.
Here is the comparison.
| Feature | Bamboo Flooring | Vinyl Flooring |
| --- | --- | --- |
| Durability | ✅ | ❌ |
| Eco-Friendly | ✅ | ❌ |
| Air Quality | ✅ | ❌ |
| Comfort | ✅ | ❌ |
| Water-Resistant | ❌ | ✅ |
| Price | ➖ | ➖ |
| Look & Feel | ✅ | ❌ |
| Installation | ❌ | ✅ |
| Cleaning | ❌ | ✅ |
Bamboo vs lvp
Based on our comparison, bamboo flooring takes the lead in most categories, excelling in durability, eco-friendliness, and natural aesthetics. Vinyl flooring, however, wins in water resistance, ease of installation, and cleaning.
If you prioritize environmental impact and long-term durability, bamboo is the clear choice.
For those seeking ease of maintenance and water resistance, vinyl could be the better option.
Durability
Bamboo is super strong. It's one of the hardest floors you can find. It's so tough that it rarely gets dents or scratches. Plus, you won't have to refinish it often. That saves you money in the long run.
Vinyl is also durable, but not as much as bamboo. It can be damaged by sharp objects or heavy furniture. If that happens, you'll need to replace the whole plank.
Winner: Bamboo
Eco-Friendly
Bamboo is amazing for the environment. It grows super fast and doesn't need pesticides. When it's harvested, the roots stay in the ground. This means new plants can grow without harming the soil or wildlife.
Vinyl is not so eco-friendly. It's made from chemicals that can be harmful. Some new types of vinyl are better for the environment, but they still can't beat bamboo.
Winner: Bamboo
Air Quality
Bamboo is great for air quality. It releases very low amounts of harmful gases called VOCs. That makes it a healthy choice for your home.
Vinyl can release more VOCs, especially if it's not from a good brand. Always look for Floorscore Certification to make sure it's safe.
Winner: Bamboo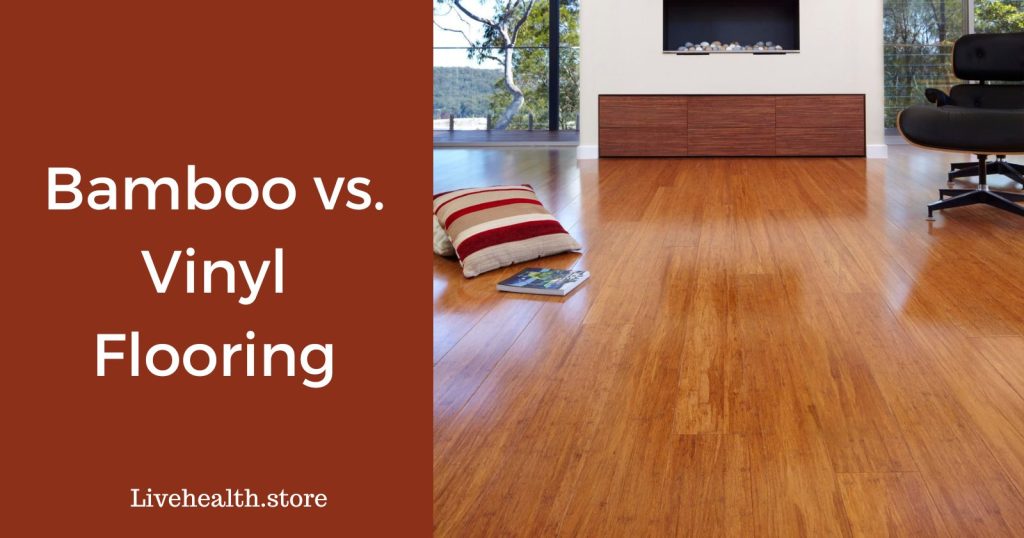 Comfort
Bamboo feels warm when you walk on it. It's a great choice for cold mornings when you're walking around barefoot.
Vinyl is not as warm as bamboo. It's okay, but if you want a cozy feel, bamboo is better.
Winner: Bamboo
Water Resistance
Bamboo is pretty good with water. If you clean up spills quickly, they won't get damaged. But it's not the best for very wet areas like bathrooms.
Vinyl is even better with water. Some types are even waterproof. Just be careful if you're putting it over concrete, as moisture can cause problems.
Winner: Vinyl
Price
Both bamboo and vinyl are budget-friendly. They cost about the same, so it's a tie here. Just make sure to pick a good brand to get the best value.
Winner: It's a Tie!
Look and Feel
Bamboo has a unique, natural look. Each plank is different, giving your floor a one-of-a-kind appearance.
Vinyl tries to mimic the look of wood, but it's not the same. It can look a bit fake compared to bamboo.
Winner: Bamboo
Installation
Both bamboo and vinyl are easy to install. Vinyl is a bit easier because it can go over uneven surfaces. But bamboo isn't far behind.
Winner: Vinyl
Cleaning and Maintenance
Both floors are easy to clean. Vinyl has a slight edge because you can use a steam mop on it. With bamboo, you have to be a bit more careful.
Winner: Vinyl
Hi there, I'm Sam Billings, and I'm all about sustainability. Running a printing business is my thing, but my real passion is preserving nature. That's why I run the Live Health blog, where I focus on Bamboo plants and their eco-friendly goodness.